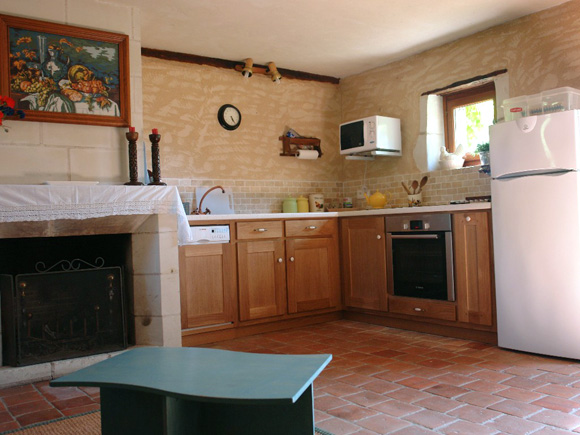 Kitchen area
The kitchen area has a fridge/freezer, a microwave oven, a hob and oven as well as a dishwasher. A welcome pack is provided for visitors to start the holiday break including coffee, tea, sugar and milk. Essentials such as kitchen roll and washing up liquid are also provided.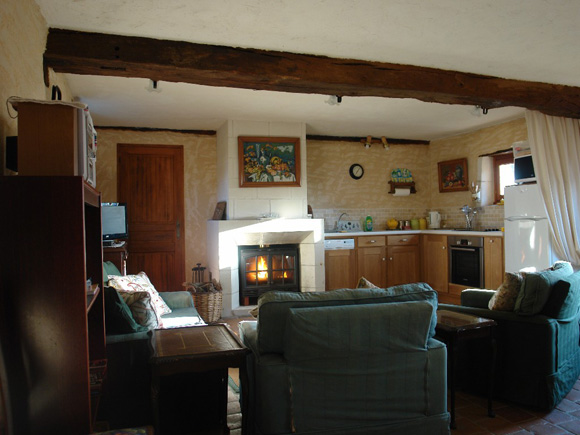 Living room
Downstairs there is a large combined living room/dining room/kitchen area. The entire floor in this area is tiled with the original tiles which still retain their beautiful terracotta colour despite being 240 years old. This charming room has three windows with garden views.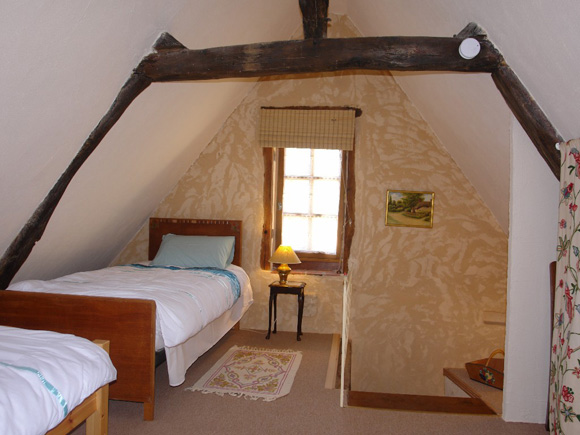 Single beds
Restored original stair-treads lead to a spacious upper floor with all original beams. The first bedroom has two single beds, each with a bedside table, in a large area entered from the stairs.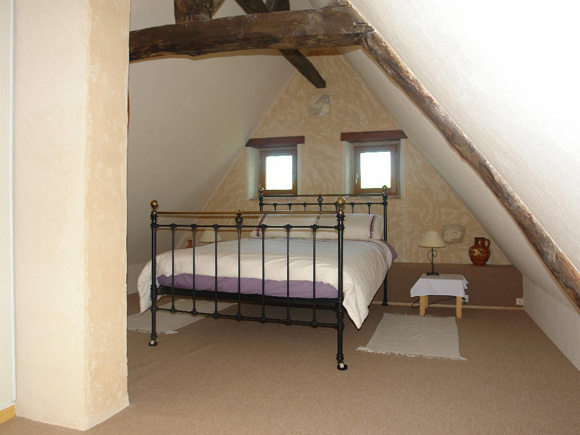 Master bedroom
A door leads through to the double bedroom with built-in wardrobes, a chest of drawers, two bedside tables and an armchair. We provide winter and summer bedding plus extra pillows. Both bedrooms are fully carpeted and enjoy views of the countryside.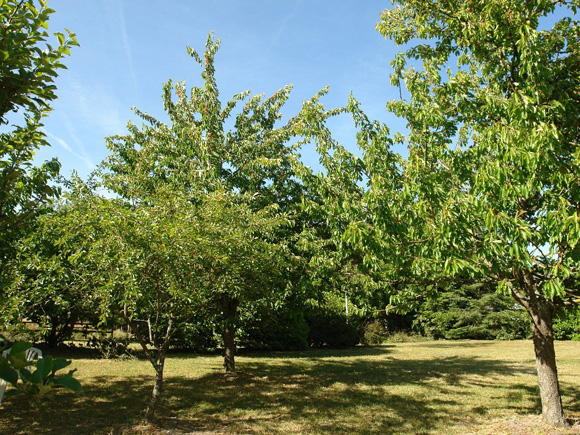 Orchard
There is a large table with four chairs and an umbrella in the garden, as well as two sun loungers, a wooden bench and a barbeque. Ample parking is available in the orchard.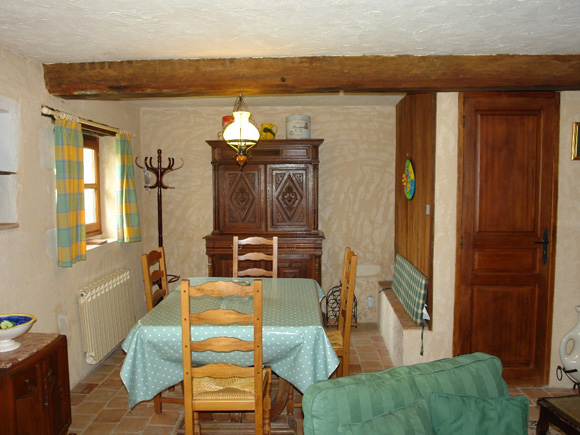 Dining area
A dining table with four chairs sits in front of an old French dresser which houses all the cutlery, crockery and necessary utensils. Tablecloths are provided as well.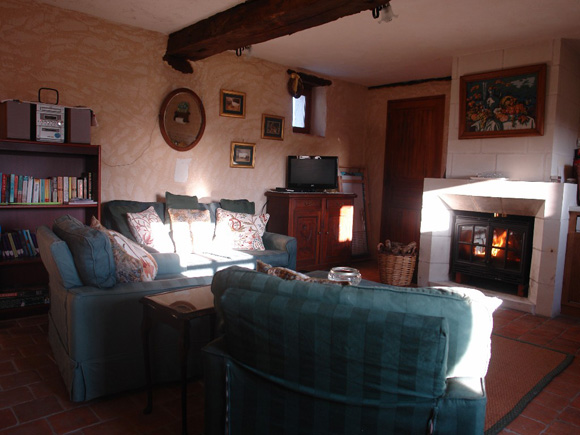 Sitting area
The sitting area has an open wood-burning fireplace, complementing a large sofa with two comfortable arm chairs. There is also electric central heating although you only need it in the winter. There is a TV/DVD player and hi-fi system, plus internet and wi-fi if needed.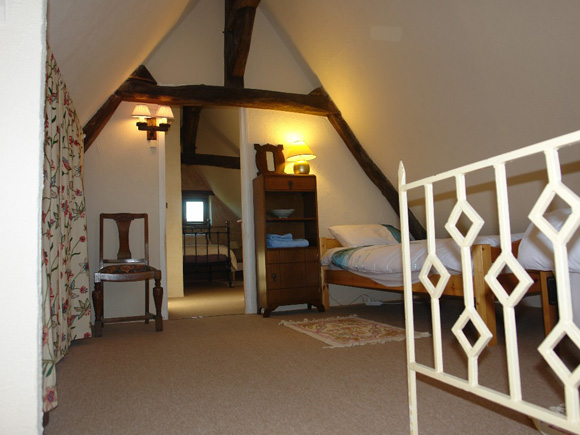 Single beds other aspect
The other aspect of the single beds. This room could also be used as another living/studio space. Bed-linen are also available. .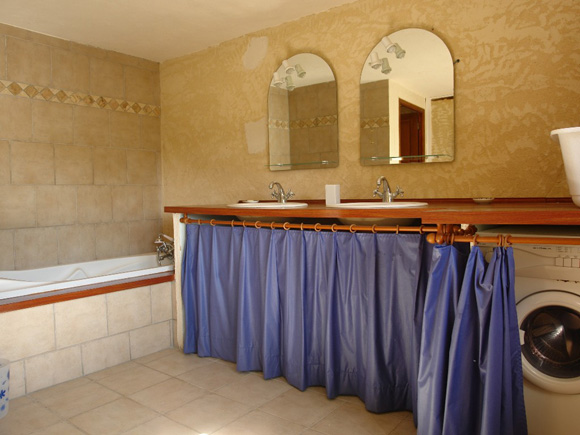 Bathroom
Next to the fireplace in the living room, a door leads to the stylish bathroom which contains a good-sized bath alongside two individual hand-basins, a washing machine and plenty of bathroom shelving space. Soap and toilet roll are provided, as well as an iron and ironing board. A separate WC is adjacent to the bathroom.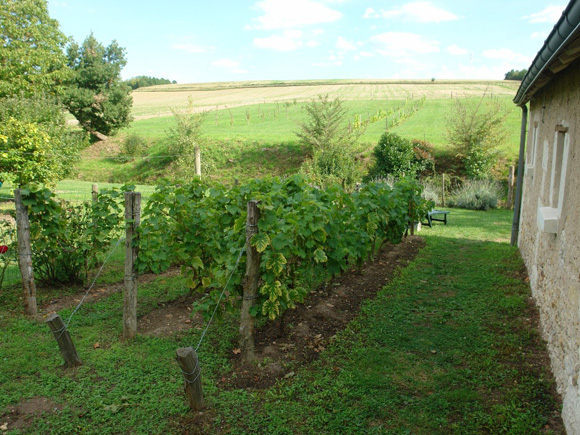 Vineyard
The well-tended cottage garden, including 20 vines, overlooks a field of walnut, apple and pear trees. It has an excellent south-facing aspect and enjoys the sun throughout the day.